Didi Gibbons
Actor
Stephnie Weir
First Seen
"White to Play"
Name
Dierdre "Didi" Gibbons
Status
Alive
Job
Cupcake Baker
Saw in Flash
Arguing on the phone with an unknown person.
Deirdre "Didi" Gibbons is 45-year-old cupcake maker who contacted the FBI after hearing herself discuss agents Benford and Noh in her flashforward. She described herself as "a good person".
Character Biography
[
]
Pre-Flash
[
]
Didi owns a bakery and her specialty are cupcakes. Her phone and credit card were cloned by an unknown person.
Flash
[
]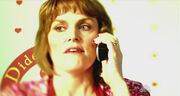 Didi was in her own cupcake shop. She was angrily talking to someone on the phone, requesting that he or she call FBI agent Noh.
Post-Flash
[
]
Didi arrived at the FBI informing them of her relation to the The Mosaic Collective. She revealed that in her flashforward, she mentioned Mark Benford and Demetri Noh while arguing on the phone with an unknown person. She mentioned the town of Pigeon, Utah.
Janis Hawk later analyzed cell phone records and determined that Didi's phone was used to call another cell phone, probably that of Suspect Zero, during the GBO.