This article is about an element of the book Flash Forward.
The content on this page does not regard the television series
and should not be considered canon in that regard.
You may be looking for a different "FlashForward." For other uses of FlashForward, see FlashForward (disambiguation).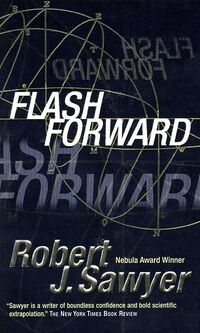 Flash Forward, also known as Flashforward, is a 1999 novel by Canadian science fiction author Robert J. Sawyer. In 2009, a TV series inspired by the book premiered on ABC.
The novel concerns events that occur in 2009, when the Large Hadron Collider accelerator is performing a run. During this run, the entire conscious human race becomes unconscious, and their consciousness moves 21 years into the future. The people experience their future through their own bodies. This "flashforward" lasts a matter of two minutes, but then when it is over, many are dead from the collective unconsciousness that caused many accidents.
Characters
Edit