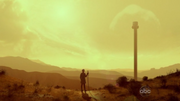 Ganwar is a region in the African country of Somalia.
In 1991, an incident occurred, causing massive amounts of crows to die. A young boy, herding goats, witnessed the incident. Subsequent reports stated that, at the same time, people living there experienced a mass loss of consciousness.
Following the GBO, Mark Benford made the connection of crows dying in massive amounts to be associated with blackouts.
Ganwar is fictional, created for FlashForward - in reality, there is no such region in Somalia called ganwar
 (By : warsame abdullahi ali)