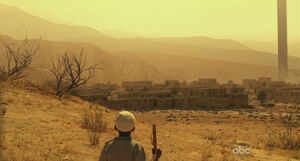 The Ganwar incident refers to a happening in the Ganwar region of Somalia in October 1991: presumably, the first test of the pylon system that may have caused the GBO. A huge number of crows died simultaneously, and subsequent reports also stated that several humans had blacked out. The only apparent witness to the incident was a young boy named Abdi.
The villagers actually experienced flashes around two weeks into future and were interviewed by Dyson Frost about that. Some time later they were all executed.
Eighteen years later, in October 2009, FBI agents Mark Benford and Janis Hawk noticed the similarities between the Ganwar incident and the GBO, thanks to Rudolf Geyer who references the death of crows outside his cell upon waking from his own blackout.