"Mosaic Investigation wall" redirects here. For other uses of Mosaic Investigation wall, see Mosaic Investigation wall (disambiguation).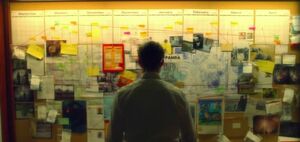 During his flashforward, Mark Benford saw himself in front of a wall, investigating the GBO. A great number of notes, drawings, photos, maps, and objects in evidence bags, are pinned to the wall, with strings linking some of them to specific dates.
In the flashforward
Edit
The following can be seen on the wall, although there are several more which aren't identified. ("No More Good Days")
Objects that have been encountered since the the blackout are cross-referenced:
Recreating the wall
Edit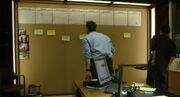 As a part of the Mosaic Investigation, Mark started recreating the wall in his office, as seen in his flashforward. He put up the calendar sheets, and Demetri wrote four notes, matching the ones in the flash. Thereafter Mark himself drew the three stars. Finally, the photos of Alda Hertzog, Khalid and Omar were pinned to the wall. ("No More Good Days")
During the mission to Pigeon, Utah and the encounter with an unidentified man, the chess piece was collected from the Divine Doll Company, as was the photo of the burnt doll.("White to Play")
Following the request from Rudolf Geyer to get to talk to Agent Benford, Mark remembered the clip, and was later given the photo of Geyer. ("137 Sekunden")
Gabriel's drawing
Edit
Agent Vreede found a drawing book among Gabriel's possessions. The book contains a detailed drawing of the Mosaic Investigation wall. When asked about it, Gabriel says he had been there on a trip. ("Course Correction")
Mark Benford is in his office and trying to figure out the date of the next GBO. He then looks for and finds Gabriel's journal and starts putting the strings where they are supposed to be and identifies 10:14pm as the next blackout. ("Future Shock")
External links
Edit
Community content is available under
CC-BY-SA
unless otherwise noted.