Jurassic World: Dominion Dominates Fandom Wikis - The Loop
Play Sound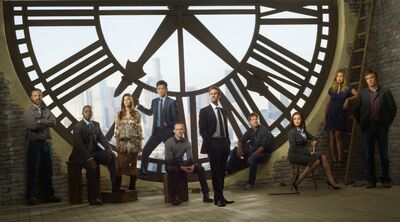 Season 1 of FlashForward began airing on Thursday, September 24, 2009. Inspired by the novel of the same name by Robert J. Sawyer, FlashForward centers around a group of characters who, along with the rest of the world, suddenly blacked out and experienced a vision of the future for two minutes and seventeen seconds.
The first season of FlashForward was picked up for an initial order of thirteen episodes in May 2009. On October 12, after airing three episodes, the series received a full-season order, bringing the total amount of season one episodes to twenty-five.
On February 23, 2010 the first ten episodes of the first season were released on DVD.
Eventually, season one was cut to twenty-two episodes and FlashForward was not renewed.
Main Cast
[
]
Supporting Cast
[
]
Episodes
[
]
Click on the icons in the first and third column headings to re-sort the episodes.
| | | | |
| --- | --- | --- | --- |
| Ep | Image | Title | Synopsis |
| 01 | | "No More Good Days" | A mysterious global event causes everyone to simultaneously experience, for two minutes and seventeen seconds, their lives six months in the future. When they wake up from the "flash forward", everyone is left wondering if what they saw will actually happen. A Los Angeles FBI agent named Mark Benford tries to figure out what exactly happened and why it happened. His supervisor directs him to create a database of people's flash forwards from around the world. |
| 02 | | "White to Play" | Mark and Demetri head to Utah to track down a suspect who may be connected to the global blackout, Olivia comes face-to-face with the man from her vision, and Mark and Olivia's daughter, Charlie, has trouble coping with the aftermath of her flashforward. Demetri receives an ominous telephone call. |
| 03 | | "137 Sekunden" | Mark and Janis travel to Germany to speak with an imprisoned Nazi who claims to have knowledge about the blackouts, and an anonymous tip leads Demetri to believe his deepest fears about his future. Meanwhile, Aaron pleads with Mark to help him get the approval to have his daughter's body exhumed in order to re-test her DNA and confirm the identity of the remains. |
| 04 | | "Black Swan" | Olivia struggles to accept Bryce's suggestion that a patient's flashforward holds the key to a correct diagnosis and treatment. Meanwhile, Demetri accuses Mark of waiting for the future he saw in his flashforward to come true without incident, while Mark feels Demetri is letting his fear of what he witnessed envelop his life; and Nicole returns to work as Mark and Olivia's daughter's baby-sitter, and discloses her shocking future vision — involving a murder. |
| 05 | | "Gimme Some Truth" | Mark finds himself on the defense during a Senate Intelligence Committee hearing; Sanford shows his dark side and uses a piece of information to protect Mosaic; Janis wonders how her vision will affect her current romantic relationship; Olivia receives an anonymous message. |
| 06 | | "Scary Monsters and Super Creeps" | Mark, Demetri and Wedeck try to find a connection between Janis' attack and a separate attack made on them. Meanwhile, as Halloween approaches, Olivia confronts Mark about his flashforward, Demetri and Gough track down a clue that was foreshadowed in Mark's flashforward, Lloyd's son, Dylan, goes missing from the hospital, and the elusive Simon makes contact with a reluctant acquaintance. |
| 07 | | "The Gift" | Mark, Demetri, Gough and MI6 agent Fiona Banks investigate a Blue Hand club and its possible connection to some recent suicides. Meanwhile, Aaron receives a surprise visit from a former Marine buddy of his late daughter, Demetri comes clean with Zoey about his lack of a flashforward, and Nicole helps Bryce uncover the mystery of his flashforward while volunteering at the hospital. |
| 08 | | "Playing Cards with Coyote" | Mark gets a lead on the tattooed assassin that he saw in his flashforward. Simon and Lloyd play a game of poker to determine their next step. Aaron uncovers the harsh truth about Tracy's time in Iraq. Janis has second thoughts about her career. Three stars becomes significant. |
| 09 | | "Believe" | Bryce begins his search for the woman in his flashforward, Aaron becomes concerned over Tracy's odd behavior, Mark attempts to track down the person responsible for texting Olivia and outing his drinking during his flashforward vision, and Demetri's co-agents try to find the mysterious caller who forewarned him about his unfortunate fate. |
| 10 | | "A561984" | Demetri and Mark disregard Wedeck's orders and pursue a woman claiming to have details of Demetri's fate; Zoey learns the meaning of her flashforward. |
| 11 | | "Revelation Zero, Part 1" | Mark returns for Hong Kong to learn that keeping his job is contingent on being certified by a therapist; the therapist administers a drug that helps Mark remember details of his Flash that he had suppressed. Simon is abducted and joins Lloyd in a basement where Lloyd is interrogated about the technical results of the NLAP experiment while Simon is tortured. The origins of the Sanctuary movement are revealed. |
| 12 | | "Revelation Zero, Part 2" | Mark works on a version of Mosaic board at home while he awaits resolution of his status. After Charlie tells him to start the puzzle at the corners, begins visiting places in Los Angeles that relate to clues on the board. His investigatyion leads him to the burned-out former location of the Crown Cheese Steak restaurant which happens to be the prison of Lloyd Simcoe and Simon Campos. He rescues both. Simon flees to Toronto with Janis in pursuit. Simon confers with his former academic advisor and his "Uncle Teddy," who happens to be the man responsible for his torture, comes to the family home. Simon is revealed to be Suspect Zero. |
| 13 | | "Blowback" | Aaron accidentally places Tracy in jeopardy and goes to war to save her. Zoey antagonizes both Stan and Demetri by formally requesting files about the Mosaic investigation. Lloyd and Mark work together to try to better understand the significance of their Flashforwards. Janis takes the first step toward becoming a mother. Vogel organizes a secret mission to Somalia. |
| 14 | | "Better Angels" | A team headed by Marshall Vogel investigates the beta Blackout in Ganwar, Somalia. Mark and Olivia Benford move further apart while they learn what troubled their daughter Charlie saw in her Flashforward. Bryce Varley and Nicole Kirby discuss their separate futures. |
| 15 | | "Queen Sacrifice" | Full-scale mole hunt is launched in Mosaic Investigation. Dyson Frost's tape reveals valuable information while Dyson himself plays mind games with Mark and Demetri. |
| 16 | | "Let No Man Put Asunder" | There are only few days until Demetri will be killed. He and Mark are trying to track down future murder weapon as well as Dyson Frost. Stan Wedeck got involved in investigation about Jericho and makes an alliance with Aaron Stark |
| 17 | | "The Garden of Forking Paths" | On March 15, day when he is supposed to die, Demetri is held hostage by Dyson Frost. Mosaic Investigation has only a few hours to rescue him. Alda Hertzog stages a jailbreak with assistance and later assassinates Dyson Frost. Frost leaves behind his "The Garden of Forking Paths," a huge wall with multiple futures with nothing after December 12, 2016]]. |
| 18 | | "Goodbye Yellow Brick Road" | Janis Hawk is secretly recuited twice. The Mosaic Investigation learns that the blueprints Mark discovered are for a form of date computer. Mark Benford discovers that the white queen on his Mosaic Investigation wall contains a valuable clue. Olivia Benford encounters the enigmatic Gabriel McDow. Janis is ordered to kill. |
| 19 | | "Course Correction" | People who kidnapped Simon's sister Annabelle reveals their demands. Simon was compromised and had to say about kidnap to Mark. Meanwhile Demetri Noh and Fiona Banks are tracking down serial killer who murders people who outlived their predicted deaths. |
| 20 | | "The Negotiation" | |
| 21 | | "Countdown" | |
| 22 | | "Future Shock" | |